Last month, Whispr Group launched a COVID-19 webinar series that will explore the impact of the pandemic on digital consumer behavior. Our latest event analyzed search intent, online conversations, and paid content performance to derive actionable insights for the Food & Beverage industry.
1. Online conversations about food, beverages and snacks have increased – in most cases significantly – over the last month.
Highly affected by hoarding and supply concerns at the beginning of quarantine, food held a larger share of conversation volume across social media platforms (including Instagram, Twitter, blogs, and forums) than beverages and snacks. However snacks experienced the largest post-pandemic increase, illustrating changing consumption habits during quarantine.
As with social conversation, digital search interest increased exponentially across all categories, mainly affected by anxiety about store hours and delivery options. Alcohol, baking and comfort foods all affected search trends positively.



2. Rising search engine interest across all food categories
The year-over-year increase across all food categories (+54%) shows a shift in demand and purchase behaviors for online grocery shopping. Demand for ease has intensified frozen food searches (+110% YoY growth), especially for pre-made meals. Canned good queries have increased +575% YoY, demonstrating the scale of panic-related bulk purchase research and activity.



3. Quarantine has increased interest in cooking and baking at home.
Cooking and baking occupy a significant presence within food and snack-related COVID-19 conversations. Consumers are using social media to share recipes, tips and tricks, and finished products, evidence of a clear trend and intensified interest.
The largest age group for the emerging baking and cooking interest is young adults between 25-34 y/o.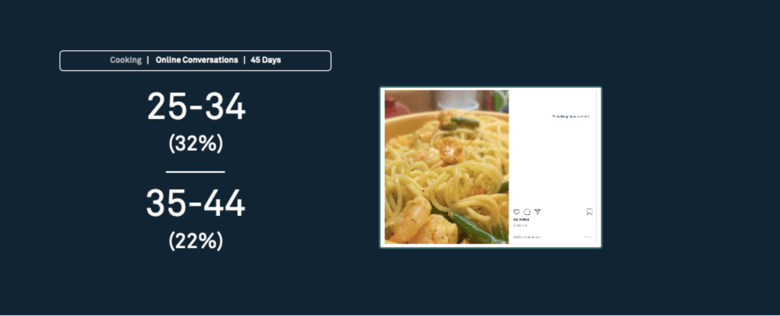 4. COVID-19 has shifted the environmental change focus to an increased concern about recycling and sustainability.
While general environmental change was the largest topic in 2019, conversations regarding environmental concerns during COVID-19 was put into a micro-perspective, focusing on recycling, with a large YoY increase (+235% ). The leading topics were repurposing of at-home materials and concern about the disposal of recyclable materials.
Home gardening and sustainable farming were responsible for a significant rise in food-specific sustainability mentions over the last month, emphasizing the DIY culture that has emerged during the quarantine.

5. Beverage companies have been especially good at building brand-based digital communities.
Consumers are regularly sharing humorous social media content about their drinking behavior – of both alcoholic and non-alcoholic products – as consumption has switched from bars and coffee shops to drinking at home, often by themselves.
To tap into this upswing in at-home consumption, beverage companies are using social platforms to build brand-based communities, instead of encouraging a purely transactional relationship with their consumers.

6. Overindulging is prevalent in both food and snack conversations.
Overindulging and healthy eating have nearly equal SOV (12% and 13% respectively), highlighting divisions in consumption behavior. Mentions related to overindulging often have a more humorous tone, while emphasizing the comfort that food and snacks have created during the quarantine.



Key Takeaways
Address new quarantine behaviors—including the increase in, and ironic celebration of, consumer eating & snacking
Highlight creative ways to incorporate your products as ingredients in cooking & baking projects
Consumers are increasingly concerned about sustainability, so provide guidance about how to reduce food and packaging waste
Broaden your SEM keywords to include recipes, how-to guides, and sustainability since CPCs are much more cost-effective
If you want to see the full On-Demand Webinar on the Digital Impact of COVID-19 on the Food and Beverage industry you can access it here: