A few weeks ago, Whispr Group hosted a webinar in which I shared my ten best insights on how businesses should tackle the Covid-19 pandemic from a crisis communications perspective.
Now, I should really be presenting ten insights, but I only delivered nine. This is because the main advice in crisis communications is to be prepared, but as this crisis is already upon us, I chose to focus on what businesses can do now.
I prefaced my talk by highlighting the most common mistake in general: the misbelief that communication has actually taken place when in reality, it just hasn't.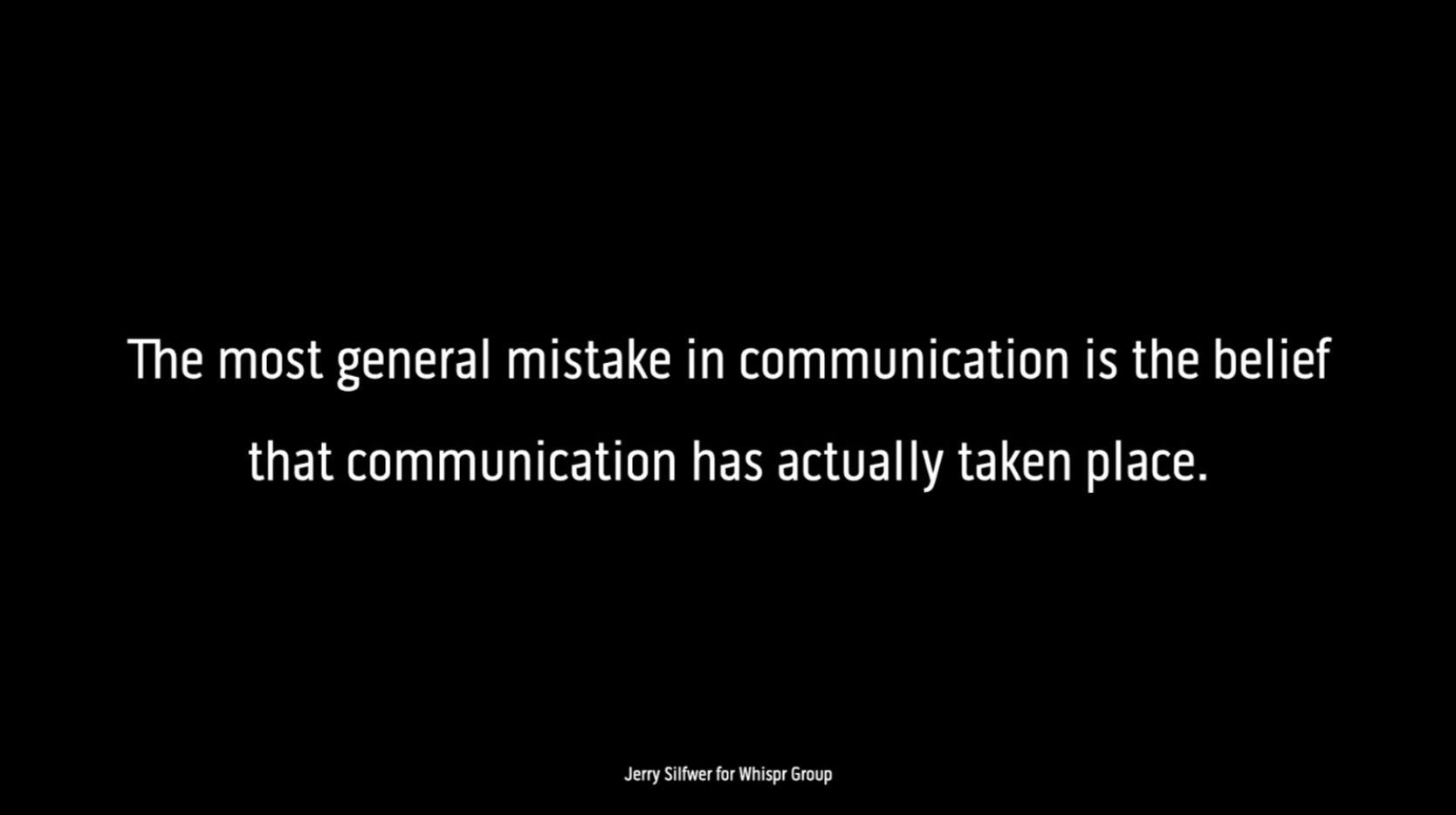 This mistake is especially prevalent in a time of crisis. In a crisis, people in general want more information. But in a crisis, there's typically also a shortage of relevant information.
From a corporate communications perspective, this becomes clear as different stakeholders want different types of information.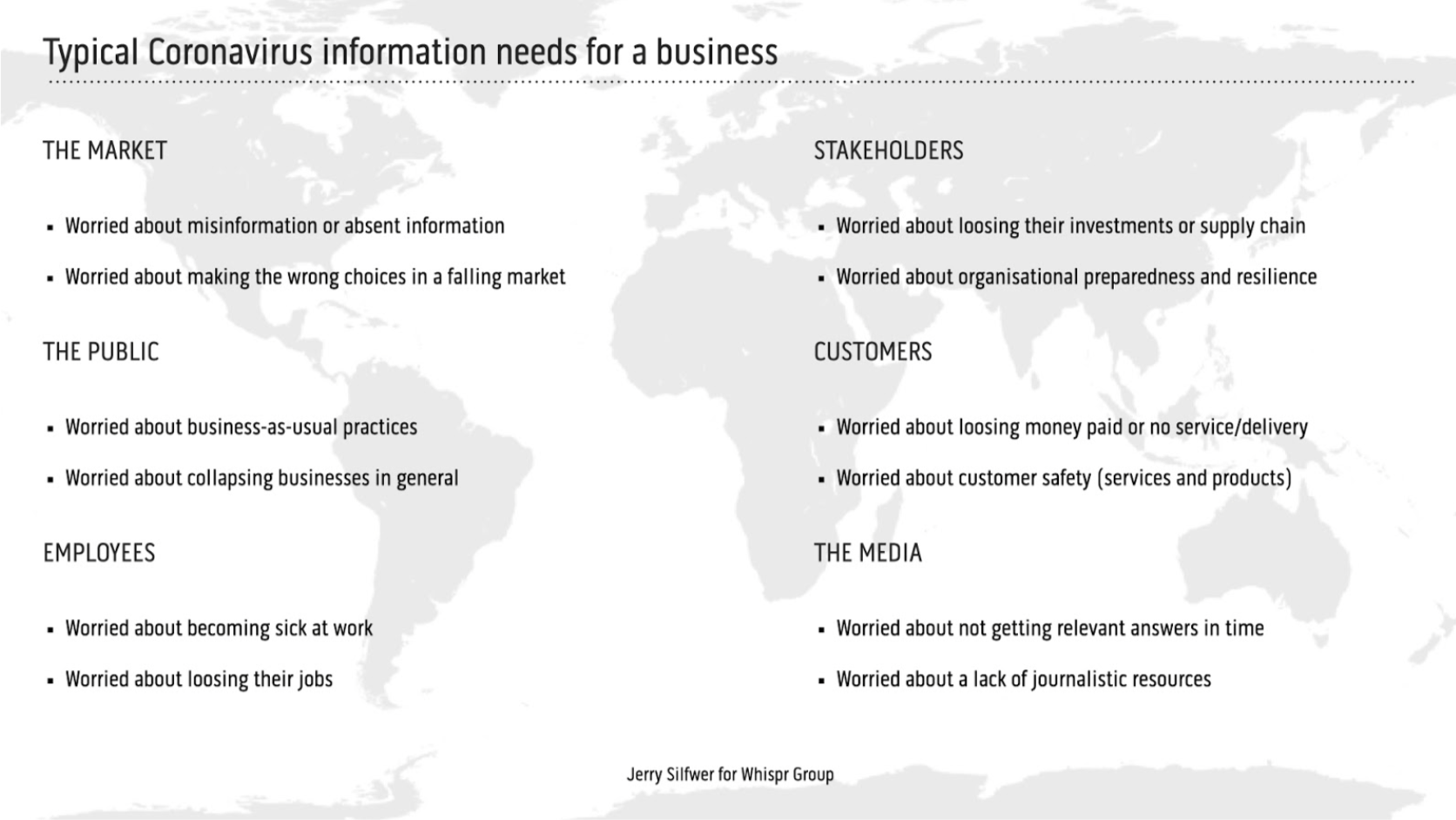 In a crisis, a business will have their hands full by just making sure that none of these stakeholders are worrying on account of your inability to provide them with the information they seek. Worry is an integral part of any crisis, but no-one should have to be worried as a result of being uninformed.
While there will be lots of hard work ahead there's good news in all of this too.
The good news is that your business can come out with better public relations on the other side of the crisis than your brand had going into this crisis. What you have to do is to communicate and take action at a level well above average.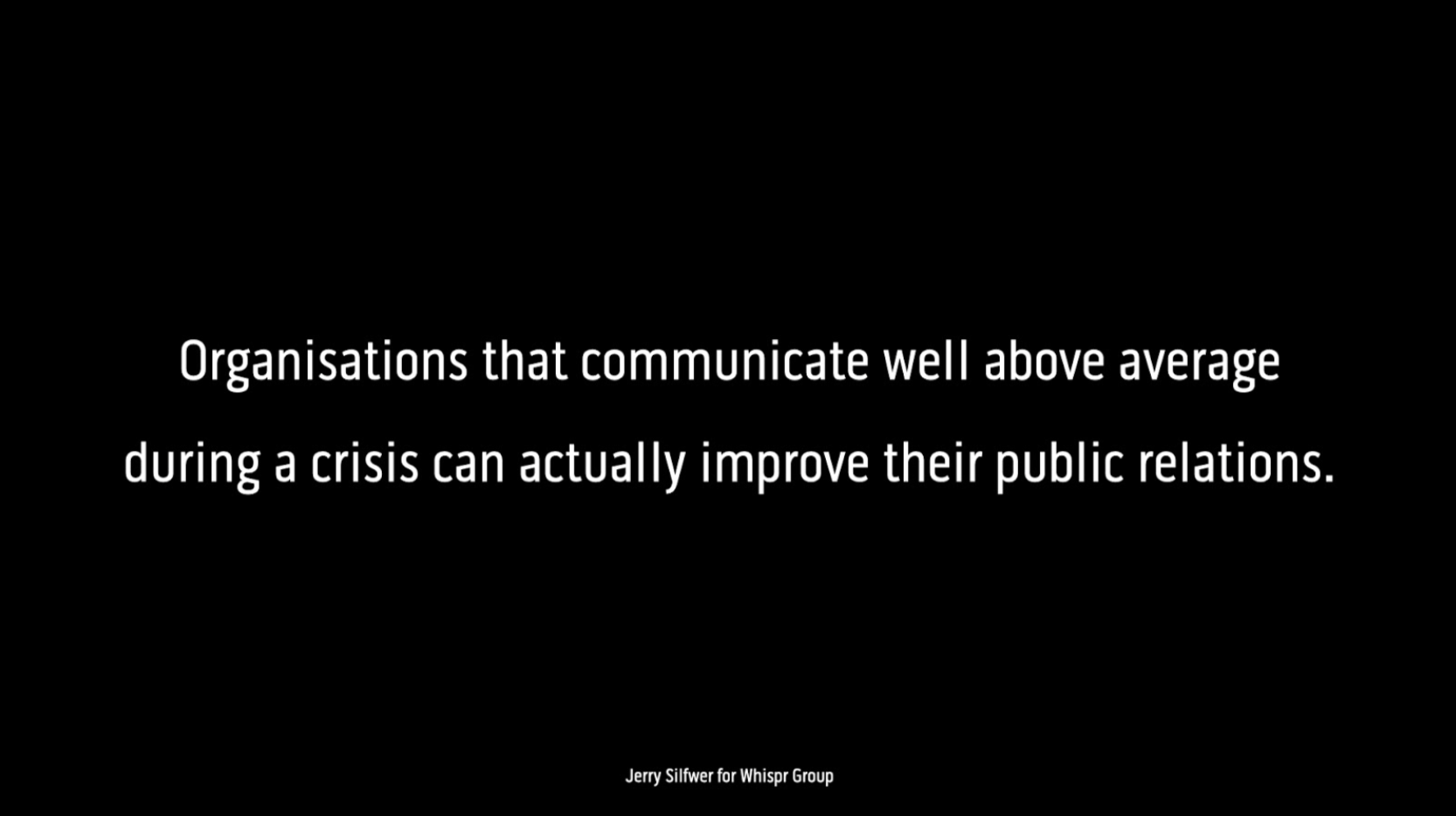 But how do you communicate well above average during a crisis?
On behalf of Whispr Group, I've identified and compiled nine key insights from my many years of experience and the study of hundreds of case studies.
When in doubt, assume the worst-case scenario

Those brands who come out successful on the other side of a crisis have a tendency to err on the side of overreaction. It simply seems to be the better strategy to overreact instead of underreact. If you don't yet have enough data, it's better to assume the worst-case scenario instead of taking a more passive stance.



Keep communicating, but tone down your sales pitch

Tonality matters more than most businesses understand. There's a time and a place for aggressive sales, but in periods of great distress, it makes sense to tone down your sales pitch.



It's okay to keep your communication efforts up-and-running – people even expect you to keep fighting for your business. Just tone down your sales pitch.



Shift resources to inbound communications

Which KPIs should you be focusing on during a crisis? The most successful companies "take care of their own first". From a PR perspective, this means prioritising (and closely measuring) your inbound activities.






Satisfy all information needs via your website

We live in a digital world: the Covid-19 pandemic has certainly reinforced this fact and accelerated the digital transformation for many brands. It's also known that the corporate website is the go-to destination during a crisis.





Monitor mistakes and best practices via social media

In a crisis like the Covid-19 pandemic many organisations will struggle, and make mistakes, in their efforts to communicate with their target audiences. And some organisations will find ingenious ways to succeed where others fail.

Many organisations neglect the fact that we live in a real-time flow of actionable data just waiting to be harvested. We can literally learn from the best and avoid making mistakes by simply monitoring both best practices and damaging failures.

Ask your favourite data scientist at Whispr Group about how to set up such a monitoring feed specifically designed for your brand.



Great crisis PR = speed up operations and communicate actions

The marketing and communications side of successful organisations actually works more, not less, during a crisis. Their frequency of activities goes up, not down. These types of organisations assign more budget to communications, not less.

And this applies to taking actions as well. As the saying goes, "actions speak louder than words." It's a tough call for any organisation to amp up their investments in marketing and communication activities, but this is what makes certain brands stand out in difficult times.





There's no excuse for choosing silence as a PR strategy

When there's positive news, there's nothing stopping the typical organisation from wanting to shout their news from the rooftops. But when there's only bad news to tell, most organisations go quiet. It's a human thing.

Professionally speaking, there's no excuse for going quiet because of tough times. This is especially true if you aspire to be an industry leader. Everything communicates and so does sticking your head in the sand and shying away from the spotlight.



Rule of thumb in a crisis = no surprises, okay?

My favourite rule of thumb when managing a crisis is to always remind myself of one simple yet powerful mantra. "No-one should be surprised about anything, okay?"

This mantra helps me focus on always trying to stay ahead of the curve. This is why I think it's important to continuously say things like:

- "We don't know yet, but we will pass on the information when we get it."
- "There might be bad news tomorrow when we get the results."
- "We're hoping for the best, but we should expect the worst – together."

It's all about doing everything you possibly can to prevent anyone from being surprised by anything. And if a surprise slips through your net despite your best efforts, then it should always be a positive one.





Find your brand tonality for this crisis

It's not business-as-usual during a crisis. If it was, it wouldn't exactly be a crisis, right? Therefore, your business shouldn't speak as if nothing was going on, either. Many business fail to develop a specific crisis tonality.

During the Covid-19 pandemic so far, I've been impressed by Ford and Ikea who both have taken measures to find a tonality and a messaging that fits both with the current situation as well with their existing brand tonality.



Yes, you can improve your PR during a crisis

Many businesses will suffer and even go extinct. Many people will lose their livelihoods. Some — however difficult this is to acknowledge — will even lose their health and their lives to this pandemic. We must all step up and unite as human beings.

One way to address this challenge as businesses is to step up and to demonstrate business leadership. This is done through action and communication, nothing else. And, when all of this is over, your community could actually reward you for standing tall and for doing and saying the right things when circumstances got rough for us all.



Did you find these insights useful? For a more in-depth run-through, make sure to watch the webinar hosted by Whispr Group.


About Jerry Silfwer.


Freelancing Senior Adviser and CMO Whisperer at Spin Factory. Speaker at the World Public Relations Forum, TEDxÖstersund, Eurocom, Sweden Social Web Camp, Internetdagarna, Webbdagarna, given lectures at Uppsala University, Berghs School of Communication, IHM, Beckman's College of Design, and Hyper Island.

Jerry was nominated by Cision Scandinavia in 2011, 2012, 2013, 2014, 2015, 2016, 2017 and 2018 for Most Influential Digital PR Professional. In 2016,

he

won.🙌 More info -> https://doctorspin.org/