In our previous blog post Whispr Group outlined the ways companies can get an edge on their competitors by harnessing insights gathered from open competitive data. Today, we'll narrow the focus further to look at how consumer reviews can be analysed to produce vital learnings that enhance product development ahead of our webinar on the subject.
Studies show that more than 90 percent of consumers consult reviews before making a purchase – so it goes without saying that all brands should be paying attention to their contents. The eagle-eyed will recall that we already touched on some of the learnings brands can take from open source review data in our previous blog post available here.
For the specific purpose of enhancing product development, some of the most powerful insights that can be gleaned from consumer reviews come when a sentiment analysis is applied. In the example below, Whispr Group analysed reviews of five mobile phone models – one target brand's flagship model and four of its major competitors – then quantitatively mapped consumer sentiment for each of them according to some of the highest recurring talking points in the customer reviews.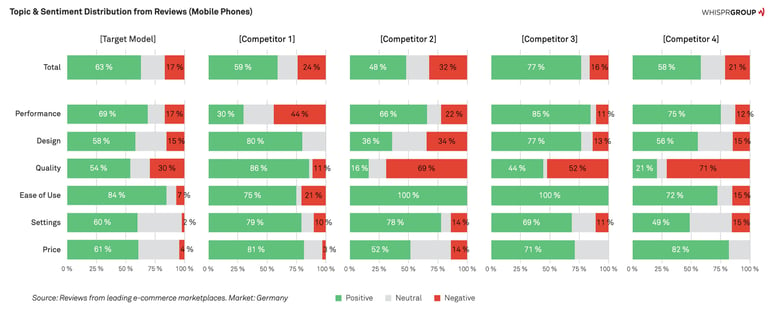 From the resulting sentiment analysis we can see for example that consumers consider build quality to be a major pain point in competitor number two's model (69% negative sentiment), and that it is a huge contributor to a significant overall negative sentiment about the model (32% overall negative sentiment, almost one third).
The target brand would do well to learn from its competitor's mistakes by focusing on maintaining and improving build quality in future models therefore, while there is also a clear opportunity to focus marketing around promoting the target brand's superior build quality in comparison to competitor number two, as that shortcoming provokes strong negative sentiment from consumers.
Our analysis can even identify the key factors that lead to purchases in a product category of interest. Then, with the help of sentiment analysis of reviews, we can shine light on the different product traits that led to a satisfying consumer perception of its performance.
In the example below, performance was identified as the largest key purchasing criteria for a mobile phone model and seven of its competing models. The sentiment analysis then showed that consumers who had made a purchase repeatedly praised the high quality camera experience and user interface of the models in their positive reviews of performance.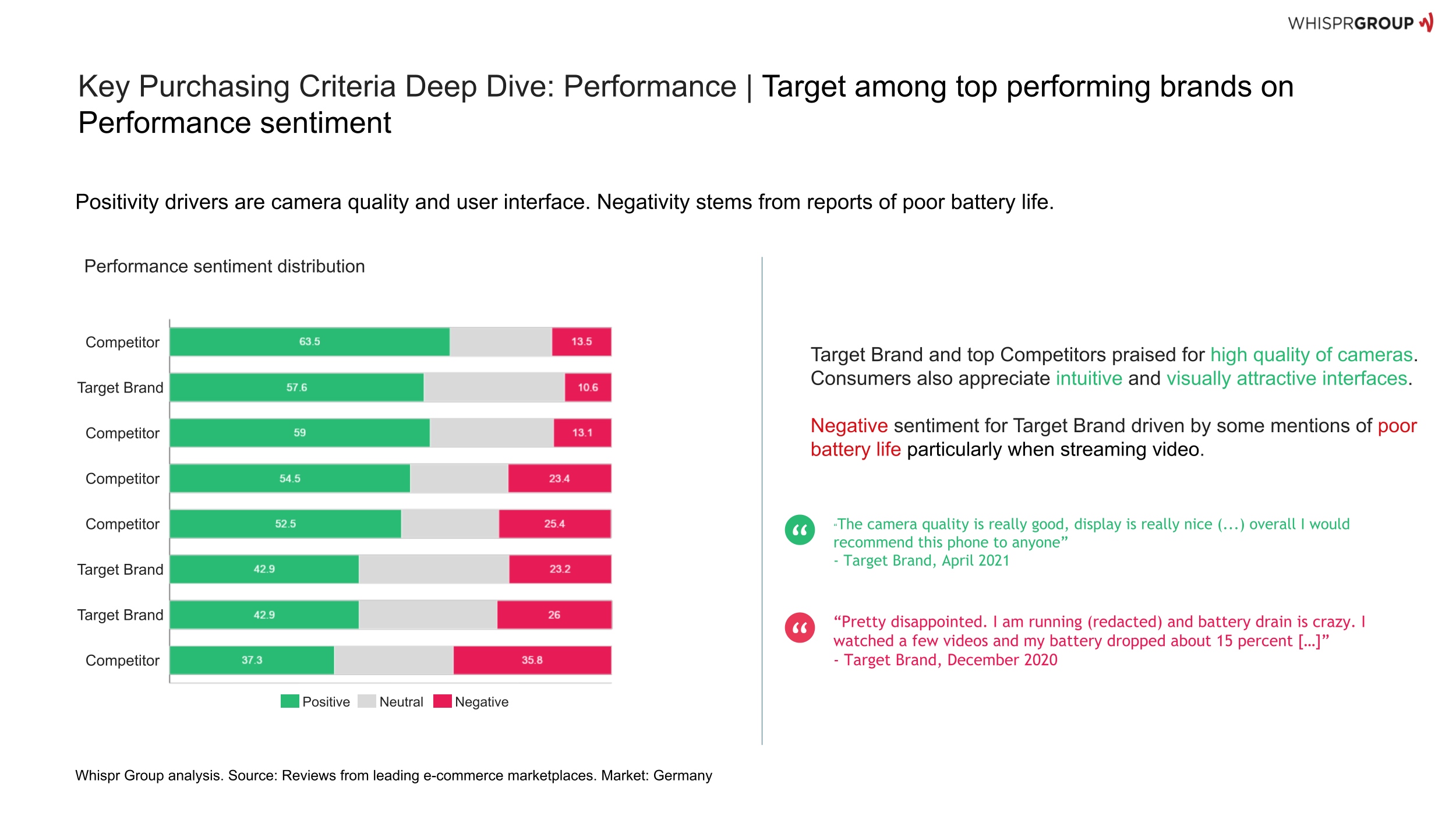 While the target brand had the smallest negative sentiment of its model's performance, there was a recurring complaint from some purchasers about reduced battery life while carrying out everyday processes like streaming videos.
The target brand can say with some certainty therefore that its future models would benefit from maintaining a high quality of user interface and camera as they are both strongly associated with positive reviews of the product's performance – the key purchasing criteria in this category, remember. But there is still room for growth if future models can also improve battery life. That valuable insight could then be directly applied to the prototype phase of future models, and it was produced without having to go through multiple rounds of expensive, time-consuming focus groups.
Research shows that though 97 percent of customer needs identified by focus groups can also be found in reviews on online marketplaces, the opposite is not true: analysing reviews can reveal additional customer needs that would not be mentioned in a traditional focus group format.
In other words, analysing user-generated reviews can result in a much more exhaustive understanding of consumer demands in your product category of interest – a goldmine of insight when attempting to develop products that better meet the overall needs of consumers than your competitors do. And as the review analysis provides a quantitative weighting of each of those customer demands, prioritising them in the development process is made more straightforward.
Want to know more? We'll dive deeper into how Whispr Group can use consumer reviews to enhance product development during our forthcoming webinar on the subject. Make sure to sign up here:
For now, here's a reminder of the key takeaways we outlined above:
Evidence shows that analysing reviews is an effective substitute for focus groups in identifying what customers demand from products, saving time and even detecting customer needs that aren't picked up by the traditional focus group process.
A semantic analysis of reviews according to key purchase criteria produces insights with a quantitative weighting that can be directly applied to product development in for example the prototype phase.
Review analysis is a particularly effective way of identifying the pain points consumers have with both you and your competitors' products, providing vital guidance for the standards your products need to adhere to in the future in order to beat the competition, as well as opportunities for engaging targeting marketing vs competitor products.