How it all started
Back in 2008, I took the biggest risk of my life. I gave up everything safe and familiar in Stockholm to move to New York with a dream and vision to launch Whispr Group. Fueled by the conviction that the digital revolution would improve everything from democracy and freedom to the way we produce and market products and services, I set out to follow this dream.
Why we became so passionate about data and insights
After countless meetings, refill after refill of coffee, the long workweeks were filled with trial and error until we got it right. I found myself in a setting where most companies in the digital industry were busy creating content, building websites, making videos, campaigns, apps, etc. I wanted to build Whispr Group in a different segment of the market. A less crowded segment that could act as an enabler of these creators of content, websites, campaigns and everything in between, a service that would help individuals, brands and organizations forward. That's when we become passionate about the abundance of data, AI software and delivering insights that would enable clients to grow and succeed.
That's when we become passionate about the abundance of data, AI software and delivering insights that would enable clients to grow and succeed
I was almost defeated by the hard-boiled New Yorkers
In the early days as a young and inexperienced entrepreneur, I was almost defeated by the hard-boiled New Yorkers. Pardon my French, but I've been f**ked with more times than I can count. To name a few incidents: I've been sued by disgruntled competitors, neglected by large banks who didn't want to support us in the early days, questioned by U.S. Citizenship and Immigration Services, overwhelmed by government administration and threatened by old-school media agency executives. Needless to say it was rough in the beginning.
And of course I share these experiences with other entrepreneurs. Building a company from scratch is definitely tough at times. Especially after almost 6 years in the most competitive city in the world, and over 10 years as the CEO of an organization at the forefront of a new industry. And we've also had the fortune of working with some of the largest and strongest – and most demanding – brands in the world (I mean, have you seen the list of the amazing companies we work with?)
Looking back at it, the New Yorker's didn't break me down, they only made me and Whispr Group a lot stronger. I truly welcome all of the bad and good experiences. They've taught me many valuable lessons. So, below is a shortlist of some of the things we've learned along the way.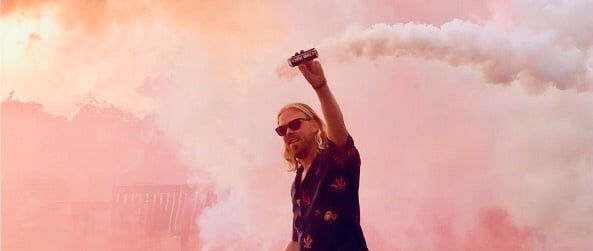 Three key learnings after 10 years as CEO within the big data insights industry.



Being Judge and Jury should be left to Judge Dredd.

I've realized that the media agency executives who used to scream at me were just (and some still are) afraid to adapt to the new digital world and our data-driven insights. Our fresh approach sometimes competes with their old ways of self-evaluation and in some cases, we proved they were wasting away our client's hard-earned money.

How some agencies still evaluate their own campaigns is like being both the judge and the jury and that is beyond me; but hey, more about that in a future post perhaps. My advice: don't let any consultant perform both the project and the evaluation. Instead, trust a third party to deliver the unbiased truth.



Listen to your core audience to avoid spiraling into a dark place

Today's ever-evolving digital media landscape, new emerging behaviors, new devices and abundance of data that it creates can confuse corporations. Both as to who their core audience really is and where they can reach them; something we've learned from the 1,000+ clients we've worked with since the founding of Whispr Group. And this is a huge problem for both B2B and B2C companies worldwide — those who don't continuously analyze and listen to their core audience tend to spiral into a dark place of irrational decisions. Look at where the likes of Kodak, Blockbuster or Yahoo are today (or where they're 'not').





Set clear SMART goals and follow up based on data

A lot of professionals we speak to complain that they don't know what their goals are. This creates some major problems, both problems of insecurity on a personal and organizational level, and it makes it harder than it has to be to optimize the company at hand.

Our advice is to spend some time each quarter to set SMART goals (Specific, Measurable, Attainable, Relevant and Timely) at all levels in the organization. This is a key step in making the organization ready to adapt and evolve quickly.



The next step is to start following up regularly. Set regular monthly meetings, evaluate the data and see how the department, division or person is performing. Leave gut feeling out of these meetings and focus on hard facts. Feedback loops become so much more fun and insights become way more impactful this way.
"Those who don't continuously listen to their core audience tend to spiral into a dark place of irrational decisions."

Why does Whispr Group exist?
Based on experience from 50 000+ meetings we see how companies struggle with making decisions in all levels of the organization. But don't despair. Our mission is to empower decision-making based on data and digital insights. We want to remove the headaches, confusion, and guessing-games associated with making important marketing decisions.
We're really passionate about this too, helping our clients become truly data-driven and make even more informed decisions is what we believe will change the world for the better.
We can bring your mojo back!
Whispr Group boasts over 10 years of experience utilizing both AI and Big Data software. Our seasoned analysts have developed some remarkable methods to find the right data, harvest loads of it, determine your core audience's needs, and learn what they say and value.
So, if you don't know this already our insights can inform decisions at all levels in the organization, from what products to produce and how to optimize marketing and communication to bring an outside-in perspective to M&A processes – essentially bringing your organizations' mojo back.
Thankful I took that risk
Today, I'm so thankful I took that risk back in 2008 and I never imagined running a company with 65+ amazing colleagues across three offices around the world. But I do know that I love what I do, how we do it, and who I work with (from the board, staff, support staff & clients) – and we're better staffed, more determined and more ready than ever.
There are too many people to thank on a personal level, but I want to send a huge collective thank you to everyone in the Whispr Group family who are amazing on every level and also to our lovely clients for continuously believing in us – without you we are nothing.
Please stay tuned for more posts by some brilliant minds about AI, Big Data, Consumer Insights, and the Digital Landscape. And please feel free to send me feedback and thoughts on what you want to read in future posts!
All the best,
Joakim Leijon,
While you are here, why not check out our guides, cases, our blog or simply contact us